We noticed you may be in the United States. Shop
instead.
Art
Subjects
Entertainment
Specialty Products
Featured Categories
This item is in the following categories: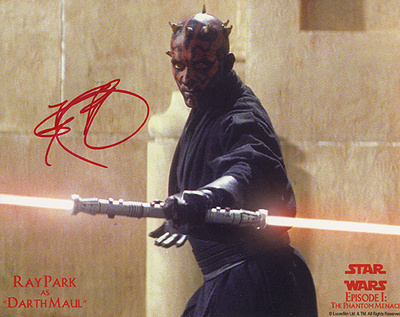 Ray Park As Darth Maul Photo
Photo
25 x 20 cm
Item #: 8734016
Product Information
Ray Park is quickly becoming a mainstay amongst the comic book and Sci-fi movie crowd. Rap Parks first big role came when he played the main villain Darth Maul in Star Wars Episode 1 The Phantom Menace. Using a light-saber the force and some sleek fighting skills he cemented himself as a mainstay in one of the greatest epic movie series of our time. Park was also made famous by playing the mutant Toad in the X-Men movie series and has recently been confirmed to play the extremely popular villain Snake Eyes in live action film version of GI Joe based on the cartoons from the 1980s. Ray Park has hand signed this 8x10 photograph of him as Darth Maul which comes complete with a Steiner Sports Certificate of Authenticity. This photograph is signed in red marker but a few variations may be signed in blue marker.

© AllPosters
<! -- tl_unique_visitor=yes-- >
100% Secured Payment: