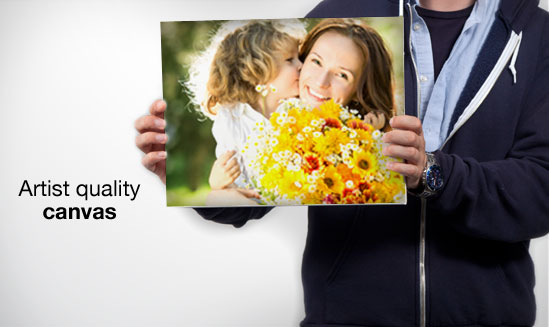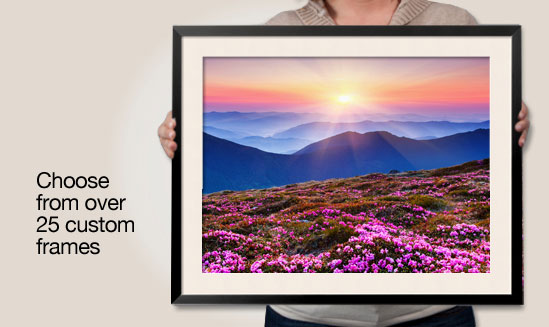 Bring a wall to life with personalized photo art
Gallery-quality printing
Over 13 years of happy customers
Image Issues
I received an error saying that there was a problem with my image. What happened? It is likely that your image does not meet the minimum requirements for printing. This is probably because it was either taken on a camera that does not have enough megapixels, it was taken on a camera with the settings turned down, or the original file has been modified and the quality decreased. For best results, take your future photos at the highest resolution your camera will allow.
Minimum resolution requirements for our most popular sizes:
| | | | | |
| --- | --- | --- | --- | --- |
| Size | Minimum DPI | Minimum | Optimal DPI | Optimal |
| 20x25 | 125 | 1000x1250 | 250 | 2000x2500 |
| 28x36 | 125 | 1375x1750 | 250 | 2750x3500 |
| 41x51 | 100 | 1600x2000 | 250 | 4000x5000 |
| 41x61 | 100 | 1600x2400 | 250 | 4000x6000 |
| 46x61 | 100 | 1800x2400 | 250 | 4500x6000 |
| 51x76 | 100 | 2000x3000 | 250 | 5000x7000 |
| 61x81 | 100 | 2400x3200 | 250 | 6000x8000 |
| 61x91 | 100 | 2400x3600 | 250 | 6000x9000 |
For Gallery Wrap canvas, the minimum resolution required in more similar to the requirements for one size larger as the photo has to wrap around the edges of the canvas. For example, when creating an 8x10 Gallery Wrap Canvas use the above guidelines for 20x25cm instead. For all other products the above requirements are accurate.
I received a warning saying "This size is not recommended for your image." What are my options? We want you to be exceedingly happy with the quality of your My Photos product, so we limit the sizes at which you can print to those that will look the best. We warn you if we think there is a possibility that based on what we know about the image it might not print with the high quality we want to deliver. You can still proceed, and the image when printed may come out just fine, but we want to be sure you're satisfied, so we're being cautious for some of the larger sizes where the quality of your image could affect the results.
Size Selection
Why don't I see all available sizes in the size drop down? In an effort to maintain the aspect ratio of the photo you uploaded, we filter available sizes based on the aspect ratio or your photo. In all instances, regardless of photo aspect ratio, we also include 20x25 and 28x36, due to their popularity. To select an alternative size that is based on a different aspect ratio, simply select "See More Sizes" from the Finished Size drop down menu.
If you do not see "See More Sizes" as an option, it means that the resolution of your photo is insufficient to print in a larger size that those already shown in the drop down menu.
Image Cropping
How do I reposition or crop my photo? If the size you have selected does not match the aspect ratio of your photo, then you can reposition your photo image. Click on "Change Print Area" and a module will open that will allow you to adjust what part of your photo is included in the printable area. We only allow for vertical adjustments on portrait photos and horizontal adjustments on landscape photos. For more complex cropping capabilities we suggest you use a photo editing tool prior to uploading your image to our My Photos service.
Image Content Guidelines
What images can I upload to the My Photos service?You may upload photos that are formatted as either JPEG or TIFF files. We cannot process other photo formats at this time. You can upload photos ranging from a minimum size of 500KB up to 20MB. Additionally, you can upload up to 10 photos. To upload photos to our My Photos service, you must accept our My Photos Terms of Use.
You may only upload photos and images for which you own the copyright. In other words, you may not upload any images that are copyrighted by someone else. Additionally, the images you upload must comply with our User Content Guidelines in the My Photos Terms of Use. We reserve the right to reject or remove images that violate our Guidelines.
Image Ownership
Who owns my images after I upload them to the My Photos service? You. We do not claim any ownership in the images that you upload to the Site. However, we reserve the right to use your images as needed to assist you in using the Site and to fulfill your orders.
Will My Photos use my images for promotional purposes after I upload them? No. We will not use your images in our marketing materials or to promote My Photos. We will use your images only as needed to assist you in using the Site and to fulfill your orders.
Image Access
How long will I have access to my images on My Photos? My Photos is not an image storage or hosting service. Therefore, the images you upload are made accessible for limited periods of time. If you upload images but do not purchase any prints, your images will be accessible for 30 days. If you purchase prints, you will have access to your images for at least 90 days from the date of purchase. For more details about Access to Uploaded Images, see the My Photos Terms of Use.
I uploaded images, but I can't find them? If you uploaded images, your session was tracked using a cookie. If you have returned to the Site using a different computer, or if you have cleared the cookies in your browser, you will not be able to see your uploaded images. Alternatively, images are made accessible only for limited periods of time and your images may have expired. For more details about Access to Uploaded Images, see the My Photos Terms of Use.
Customer Service
Still need additional help?If you still have additional questions not answered above, please call our Customer Service line at 020 7183 1770 or email us at orders@allposters.com. Please tell the agent or reference in the email that you are calling regarding Allposters.coms My Photos service.